RCEL participated in the round table "Multidisciplinary Perspectives of Applying ESG". The aim of the roundtable was the promotion of #ESG, as well as the recognition of advantages and obstacles to its application.
Danilo Radičević, Danica Janković and Jelena Plamenac participated in the second-panel discussion entitled "Cases of ESG application". The panel was moderated by Vuk Stanković, a leading partner in the law firm VSP Law and vice president of the Association for Energy Law of Serbia (UPES).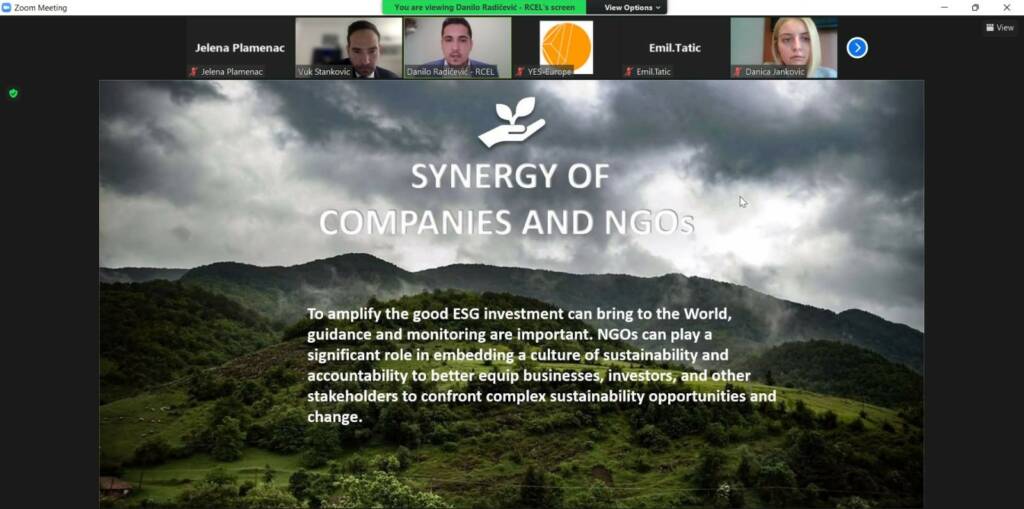 Danilo held a lecture on the role of the NGO sector in the promotion of ESG. The aim of the presentation was to raise awareness of the importance of cooperation between companies and the NGO sector in the implementation and promotion of ESG, as well as to provide examples of good practices of potential cooperation. Danilo also pointed out that clearer profiling of companies is expected from the NGO sector because communication and concrete proposals for cooperation from the NGO sector are often lacking.
Danica held a lecture on how the NGO sector can use the full potential of ESG reporting obligations. On the occasion, Danica pointed out that NGOs can play an important role in educating and assisting companies in preparing ESG reports, but also that the NGO sector has an extremely important role in preventing eco-manipulation and monitoring compliance of ESG reports with the real picture of the business.
Lawyer Jelena Plamenac held a lecture on the role of lawyers in ESG, and on that occasion, she pointed out that the implementation of ESG standards in the Republic of Serbia is currently in the process of introduction, while full implementation is a necessity for the next period. She also added that the Republic of Serbia must work on incentive policy and incentive measures, while at the same time, society will develop a sense of the importance of ESG implementation.
The roundtable was organized by YesEurope.
Foto by Đorđe Vukojičić